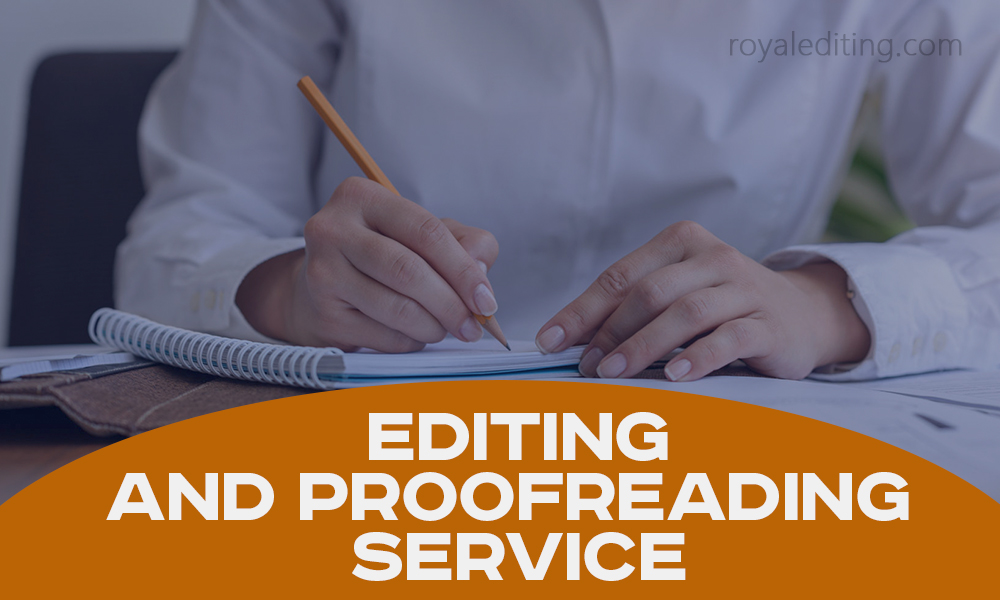 Editing and proofreading services are essential elements of all good writing. In one of the previous posts we discussed some tips how you could proofread your own essay like a professional. But in reality not everyone has necessary skills to perform editing and proofreading service. You might be a science or math major and developing outstanding grammar and composition skills is not one of your priorities, but nonetheless you still have to write essays and other academic papers. In this case proofreading editing services could become a real lifesaver for you. The proofreading and editing services offered by Royal Editing cover the full range of text related activities, from major revision to word by word proofreading. If you are a busy student or overloaded with work educational specialist you can greatly benefit from ordering editing and proofreading service online. Moreover the prices for our proofreading and editing services are honest and moderate.
7 characteristics of good editors and proofreaders
We have already established that editing is quite challenging task and not every person could master it. I use the word master because high quality editing and proofreading is a real art form and the real mastery in it can be achieved only with years of experience and constant self-improvement. As it turns out to become a good editor is not enough just to know the language and grammar well. There are many other factors, which influence the quality of the edited work. So let's look at some characteristics of a good editor and proofreader. And when you order your essay or other academic paper to be edited by Royal Editing service you can be sure that all of our editors possess the following qualities:
Good editor reads the work at least three times. Editing process consists of many layers. When reading the paper editor starts with major problems like structure, composition, transition between paragraphs, style, consistency, and slowly moves to smaller issues, such as spelling, grammar and punctuation. These steps require the editor to review a paper multiple times. The other reason for reading the work more than once is the matter of perception. During the first read the editor perceives the text from the point of view of an ordinary reader, because most of the readers read the text only once. So any inconsistencies or confusions he encounters during the first read he knows the readers will notice too. During the consecutive reads he looks at the work from the point of view of the writer, because the novelty of the text disappears for him after he reads it once. When you trust your paper to Royal Editing editors you can rely on them taking your text through all steps of editing process. Your work will be attentively read multiple times and all the mistakes will be eliminated;
Good editors and proofreaders are punctual. Good time-management skills are as essential to the work of an editor as excellent grammar knowledge. At times a single editor or proofreader might have dozens of papers on his hands simultaneously, but it will not force him to have a mental break-down or pull out the hair on his head. Good editor is a great organizer. He will juggle masterfully large amounts of work and return it to the writer polished to perfection in a timely manner. The Royal Editing editors and proofreaders always complete their assignments on time to make sure the writer can receive back his essay or other paper when he needs it. Moreover, one of the benefits of ordering your paper to be edited or proofread online is that you can check the status of your order on our web site any time you like;
Good editors and proofreaders are well educated. Excellent education is a crucial part of becoming a good editor. All of our editors and proofreaders have one or more higher education — English major and another specialized degree. In this ways our editors are not only grammar and composition savvies but also experts in other fields. Your work will be revised by real professionals of their business;
Good editors and proofreaders have a lot of experience. The true mastery of editing and proofreading art comes with experience. You cannot become a good editor in a week even if you know grammar and composition rules. This craft needs a lot of time and practice. For Royal Editing team we hire only PhD certified editors and proofreaders with a lot of experience, extensive portfolio of complete work and excellent references. This way we ensure that our customers will receive the best results and will return to us in the future;
Good proofreaders have attention to detail. As we know proofreading is the last stage of editing process before the text is sent into print. Therefore proofreading requires extra close attention to the smallest details of the text. Not a single letter or a punctuation sign escapes the eye of a proofreader. This kind of work might seem tedious and strenuous to some but proofreaders are real perfectionists, who are not satisfied until every tiniest element of a text is in its proper place and in perfect condition. The proofreaders who work for Royal Editing are scrupulous like that and polish every essay to the state of perfection;
Good editor or proofreader is passionate about his work. As we mentioned above the editing and proofreading work can be really strenuous and requires a lot concentration on details. Not everyone is fit for this kind of job. And to be able to do really well at it a person must be passionate about it. A good editor is in love with language, grammar and good writing, and therefore it is his life goal to perfect other people's writing and in this way to spread good grammar. All editors and proofreaders who work for Royal Editing service are fans of what they do. Their passion moves them towards constant improvement and self-education. Good writing is not just a job for them, but a life style;
Good editors and proofreaders are creative. Very often editor are perceived as boring dull people surrounded by dictionaries, grammar and style guides, who are stuck in the world of rules. But in fact it is completely opposite, editors and proofreaders are very creative people and their work would be no good without creativity. Every day they face so much new information and knowledge that it leaves them no choice but to become people with very wide outlook. A good editor will treat your work not just as a field for correcting mistakes but as a single creative piece. A good editor will help your personality to shine through your writing. Here you can view some free creative samples of essays edited by our editors.
Order editing and proofreading services online
We agreed that all good writing requires high quality editing and proofreading. But as it become clear not every person who knows grammar and composition rules can become a good editor. There are many qualities that can characterize a good editor, such as punctuality, attention to details and experience. When you trust your academic paper to be edited or proofread by Royal Editing specialist you can be sure that all of them possess the qualities named above. Read more about our services to be sure that Royal Editing is what your paper needs.