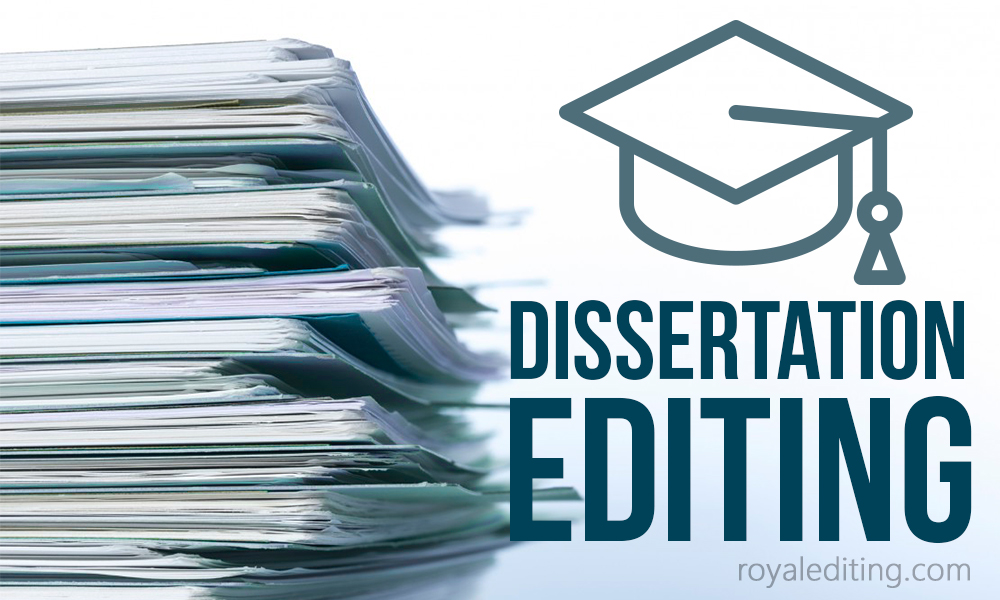 In one of the previous posts you could learn about academic editing services Royal Editing can provide you with. They also include dissertation editing services about which we are going to talk about in more detail today. Our dissertation editing service covers a full range of editing processes from revision to proofreading. Some people might recommend you to use dissertation editing software. It can look like a quick and simple solution but in reality it will do very little good for your paper. None of the dissertation editing software can fix your paper the way human editor can, because dissertation editing service is more than fixing mechanical problems like misspellings or simple grammar errors. It is throughout logical and critical analysis of a major research. It is guaranteed that you will benefit from ordering your dissertation editing service online, besides the dissertation editing rates offered by Royal Editing are very moderate.
As you might have figured out from the title of this post today we will talk about dissertations, what they are, how they are written and what their main elements are.
Dissertation or thesis?
Dissertation and thesis, these two words are often being confused or used interchangeably. And it is hard to define real universal differences between the two because the meaning of each word varies from country to country, and from university to university. First of all, to make things a bit more clear let's try to define a word dissertation. Dissertation is a lengthy formal piece of writing that includes extended reading and independent research, for the purpose of obtaining a certain educational degree at Undergraduate or Masters level. Every dissertation argues for or defends a particular thesis. In this case thesis is not a separate paper but a statement, assertion or conviction that expresses the author's point of view and which he is going to prove with help of research, arguments and other evidence. In some ways a dissertation can be view as an extended essay. Thesis paper is shorter than dissertation, about one hundred pages, while a dissertation can be two or even three times longer. Thesis paper also involves a lot of reading and researching. But the main distinction between thesis paper and dissertation is that a latter one must provide the scientific world with some new knowledge. The purpose of all dissertations is to make a discovery and to contribute it to the world in order to encourage the scientific dialogue. And the purpose of a thesis paper is to conduct a research of available resources and analyze the findings. The editors that work in Royal Editing have years of experience assisting students in writing their dissertations. Composing a dissertation is a very complex and prolonged process with many stages and it is very easy to get lost in all that amount of information that you must read. But our professional editors can help you not only to make your writing perfect but to organize and structure your whole document as well. So don't hesitate to upload your document through our web site and get professional help before it gets too late.
Essential elements of good dissertation
What separates a good written dissertation from a poor one is the set of essential elements to follow. Dissertation is a formal paper which requires strict organizational structures and following of established rules. If your aim is to write a perfect dissertation that will lay a first step to your future successful career then you must learn and apply the following rules:
Good thesis. Good strong thesis is a crucial element of your dissertation and a big part of its success depends on the right choice of the thesis. Ideally before you start writing your dissertation you will have to submit a dissertation proposal, so your professor of other faculty members can approve your choice. In this case it is better not to rush, and carefully think about choosing a right subject, because you will have to spends a lot or time reading, researching and writing about this topic. Make sure it is something you are really interested in and care to research and analyze;
Definitions and terminology. A large number of terms and definitions will be impossible to avoid in your dissertation, therefore you must ensure the correct use of each. As a rule for every new technical term that appears in your paper you must give a definition, preferably before the term is used in the context, or make a reference to it from another document. Each term has to be used only in one way that conveys only one meaning throughout your dissertation to avoid confusion.
Evidence. Proper evidence data makes the body of your dissertation. In a dissertation as in any ordinary essay after you made your thesis statement you have to support it by the use of logical arguments, scientific data and other available evidence. While writing a dissertation it is very important for you to support each of your arguments with sufficient evidence and make a reference to the source of the information. It is absolutely unacceptable to state something without supporting it with proved evidence. Such mistake guarantees that your dissertation will be turned down and in the best case scenario returned to you for rewriting. Our editors will make sure to check that all of your arguments are supported and linked with the references. Building the list of the references is no easy task in itself which requires following particular instructions and styles guides. Royal Editing editors will make this part easy for you and take this burden off your shoulders;
Good writing. Dissertation is an academic paper that requires not only correct word usage and good grammar, but a particular formal style of the language. It is not enough just to conduct a throughout research and write down your analysis as well as you can. You must write in a formal academic language, which is hard to do unless you spent your life writing academic papers. The editors who work in Royal Editing team are those people who spent their lives writing and editing academic papers, so they as no one else know which words to use to make your dissertation sound academic and professional. But of course it is also very important that you follow regular grammar rules and you can read this article if you wish to refresh your grammar knowledge;
Organization. Dissertation requires a strict prescribed structure. The proper structure is like a skeleton for a human body, without it the whole construction would crumble down. The standard dissertation structure looks as following:

Title page
Abstract
Acknowledgements
Contents pages
Introduction
Materials and methods or Literature review
Results or Sources and methods
Discussion or Findings
Conclusions
References
Appendices
Today we were able to cover only general overview of the structure, but we will focus on it in more detail in one of the upcoming posts which you will be able to read in our blog.
Order dissertation editing online
Today we learned what a dissertation is, the main difference between dissertation and thesis paper, and what the essential elements of a good dissertation are. Through this article it became clear that dissertation is a formal piece of writing that requires following the strict set of rules. It can be easy to get tangled down in all the reading and research, and forget about proper grammar and structure. Here is where our editors can be of a great help to you. For a very moderate price they will make your paper shine and ensure you an excellent grade. Just to remind you, the Royal Editing team revises, edits and proofreads not only dissertations but other types of academic papers, such as essays. You can read free samples of such essays on our blog.