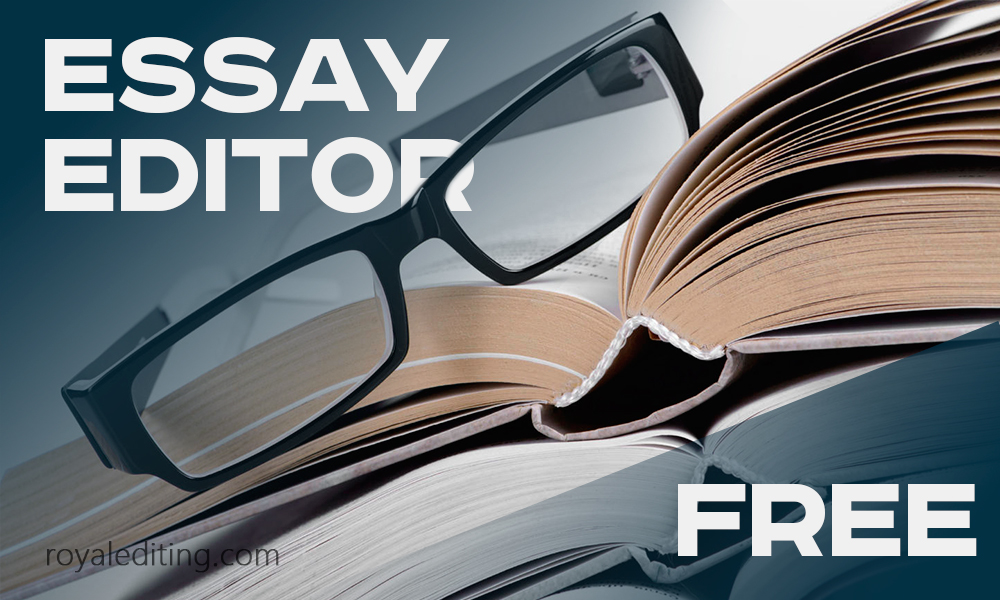 The other day we talked about the ways you could improve your grammar level all by yourself. In that post we discussed some tips that would enable you effortlessly to better your grammar skills and have fun at the same time. In today's free essay editor article we will take a look at a sample essay. Essay editor free offers you to use this previously edited essay free of charge. Since it is a free essay editor sample you can download it for your own needs. Also this free essay editor samples serves as an example of how your essay could be revised, edited and proofread if you sent it to us. If you have never before worked with essay editor free, it is very easy to do, just place your order online at our web site. The free essay editor will complete his work within a day and send you the polished version of your paper. Read this article about our editing and proofreading services to have a better understanding of how we work and why your paper needs editing.
As you might already know all essays differ from each other. There are four major types of essays that require different approaches. To learn more about the types read this article. But today instead of discussing the types we will review a sample of one of them. It will be an example of an expository essay, which focuses on exposing information on a chosen topic. Its content heavily relies on facts, statistics, evidence and real life examples. You can find more information on writing an expository essay after following this link.
Childhood obesity: prevention or cure
At the time when planet's natural resources are getting meager, human population is growing proportionally bigger. People grow not only in numbers but in size as well. Obesity and excessive weight are now among the five leading causes of death globally, along with cancer and heart diseases. In most of the cases the problem takes its roots in early childhood. Therefore the issue of childhood obesity needs to be recognized and treated in its early stages. Preventive measures prove to be more effective and crucial than subsequent cure. The few seemingly innocent extra pounds in early childhood may turn into the path leading a child to multiple health and social issues in the future.
The obesity is a problem not only because it causes physical discomfort to a person, like low mobility, but mainly because it is a door to multiple health issues. Excessive weight gain carries a number of complications for a child's health such as diabetes, high cholesterol and high blood pressure, asthma, sleep disorders and non-alcoholic fatty liver disease. Poor diet can lead to the accumulation of plaques in the arteries, which can later in life trigger a stroke or a heart attack. Such illness as type II diabetes was always associated with old age but not it traveled into much younger age group. The obese child might start suffering from sleep disorders which are caused by obstructive sleep apnea — a dangerous disorder, when a person's breathing stops during her sleep. As a rule childhood obesity is accompanied not only by health complications but by other psychological issues.
The problem of childhood obesity has its emotional side as well as physical. Such children very often suffer from low self-esteem and depressions. A child with excessive weight is bullied at school and outside of it, has troubles with making friends and establishing social contacts. Moreover such psychological distress further leads to behavior and learning problems. Overweight children face obstacles not only on the playground with their class mates but in the class as well. All of that drama in child's life can be avoided if parents and health care system pays more attention to prevention of obesity.
All parents are responsible for their child's life style and dietary choices. And even when the child is currently at normal weight parents can take active measure to prevent obesity in the future. It is a fact that eating habits are formed in the childhood and recent scientific study shows even more striking evidence of that. It has been discovered that the number of fat cell in human body is set during childhood and doesn't changes during the rest of the life, only the content of the cells grows bigger or smaller. People with larger numbers of fat cells feel constant need to fill them up. This discovery means that parents who irresponsibly treat their child's weight gain tie him or her for a life time of obesity. The doctors say that prevent excessive weight gain in your child is much easier that curing the consequences. The parents just have to limit the child's consumption of sugar sweetened drinks, provide more fruits, vegetables and plenty of fresh water, and form healthy dietary habits by eating family dinners together and limiting the visits of fast food restaurants.
Childhood obesity is an issue accompanied not only by multiple health complications but by many social and emotional problems. Poor diet and unhealthy eating habits may tie a young person to a life time of obesity and other diseases that follow it. But it is a matter that can be easily prevented by establishing right dietary choices and eating habits. On the other side there is no hundred per cent cure from it, which would ensure that a person will never suffer from weight problems again. Thus it is so important to pay more attention to preventive measures before the obesity knocks on your door.
The above free essay sample has a classic five paragraphs structure. If you order your essay to be revised and edited by our professional editors they will make sure that your paper will also respond to all set academic writing requirements. You can read other free essay samples here if you want to use them as a template or as help in choosing a topic for your future essay. In any case don't hesitate to order editing services online and ask questions because the prices are friendly as well as our customer support team.