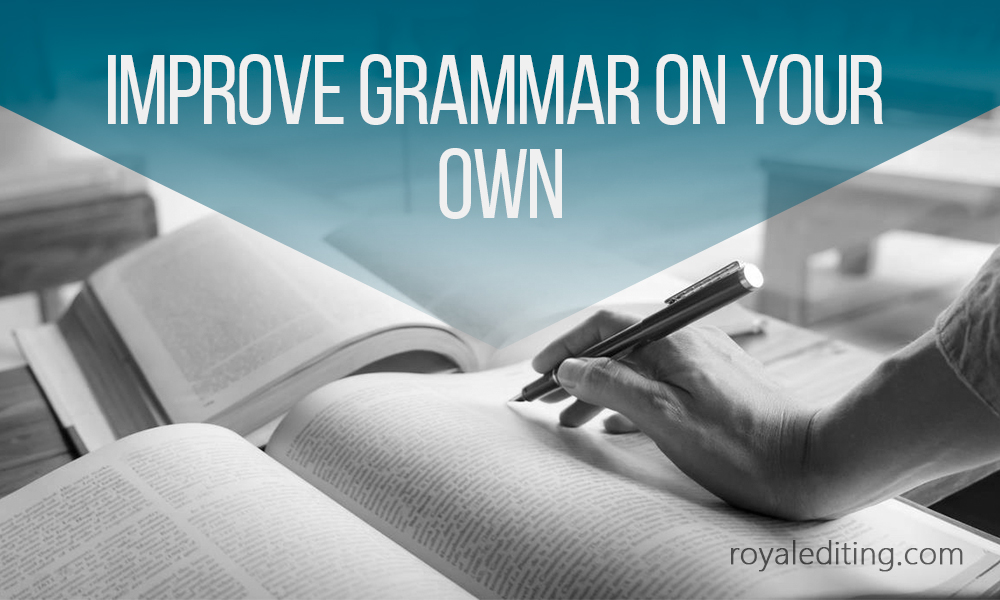 Last time we discussed how to proofread your own essayand came to the conclusion that to be a good editor for your own writing you need to have strong grammar skills. Without grammar you will not be able to spot and fix a mistake even if you see one. That's why today we will try to find a way how to improve your grammar level all by yourself. In situations when you need immediately edit your essay and you don't have time to work on your grammar, I would strongly recommend you to order professional editing services. This way you will save your time and will ensure that your paper is at its best before you turn it to the professor. Take a look at this sample to understand how editing works.
It is true that you can significantly improve your grammar without attending a language school or studying with a tutor. In our days all you need for learning grammar is a computer with internet access, a bit of spare time and some patience. If you want to improve your grammar level consider following some of these tips:
Read a lot. It is no secret that reading is the best way of learning. By reading you will not only get a hold of grammar but will also significantly expand your vocabulary. Read anything that interests you: love stories, crime and detective novels, books on gardening, history, news on software development. The list can go on forever. Reading what really interests you will ensure that you pay closer attention and remember more. You might ask, how are you going to learn grammar if you are not actually studying grammar constructions and rules the way grammar text books offer them? And the answer is not hard to find. Reading is the most natural way of acquiring language. It happens without you being aware of it, but the language with all its grammar, vocabulary and structures gets recorded at the back of your mind. So don't waste any time, grab a book, a magazine or open a news website and start reading;
Listen to native speakers. When you learn a language it is best if you try to apply more than one way of sensory perception. It means that you should use not only visual perception (reading) but audio perception as well. The more ways you use the more you will learn. Listening to native speakers has many advantages: you study grammar, acquire new vocabulary and learn proper pronunciation. It is also absolutely effortless way of improving your grammar because it just sticks to your memory without you trying hard. As with reading the same rule is applicable here — you have to listen to what interests you the most. It can be news reports, audio books, sports broadcasts, radio shows, anything you fancy. And another advantage of this way is that you can learn on the go. Just download what you like on your mp3 player and listen to it while being in public transport or walking to classes;
Write. Writing is the most effective way of improving your grammar. When you write you activate all you knowledge and mental recourses; you apply your knowledge on practice and it is the best and fastest way to learn and remember new things. It is good if you have to write essays for your college. You can send them to us for editing and proofreading and looking at the fixed paper you will be able to learn on your own mistakes. If you don't have to write for school it can seem boring and challenging to write for no other reason but improving of grammar skills. In this case you can make a pen pal online. It is super easy in our days of worldwide internet access — you can find a native speaking friend from any part of the planet. There are many online services dedicated to pen pals. Getting to know new people, making friends and writing letters to them is fun and very effective way to improve your grammar;
Use online courses. The internet is swarming with online grammar courses of various kinds. You will surely be able to find one for your taste. If you are the fan of more organized and structured learning than you will like what these web sites have to offer. There you will be able to learn grammar rules and practice what you have learned by completing different tests, exercises, taking quizzes and solving puzzles. It can be a lot of fun and you will not notice how the time flies by. Many of such services offer applications for your cell phone or tablet so you will be able to improve your grammar any time you like. Take a look at some of these services and choose which you like more: British Council, Englishteststore, English Grammar Online, English Grammar and Essay Writing Course on edX website;
Use online grammar tools. These tools are different from the ones above but still simple to use. You will find this way very helpful if you have to write a lot, for example essays or other academic papers. When you have written something just paste it in the window of one of such services and press the check button. In a few seconds you will have your text checked for all grammar errors and spelling mistakes, all of which will be underlined and explained. This way you will be able to learn from your own mistakes and improve your wiring at the same time. You may try Grammarly;
Watch movies. This must be the easiest and the most fun way of all. Some people think that if you enjoy the process and it is easy it means you are not learning anything. In fact it is absolutely opposite. Our brain is wired this way — it learns the most and remembers more when you are interested and engaged. Don't worry, the movie actors don't have to talk about usage of passive voice, subjunctive mood or verb tenses. You will absorb all that on the unconscious level just listening to their regular human conversations.
As you see learning grammar doesn't have to be boring or complicated. There are many fun ways which will help you effortlessly and absolutely for free improve your grammar level. To achieve better results I would advise you to use all of the above methods, not only one of them. Try to use as many resources and ways of learning as possible to make sure you improve your grammar level quickly and effectively. Strong grammar skills will enable you to write better essays and to eliminate errors in your writing. But if for now you are not so confident about your editing abilities send your essay or any other type of academic paper to us and we will make sure to return it to you free of grammar or spelling mistakes. Read about our editing services and make a right decision.