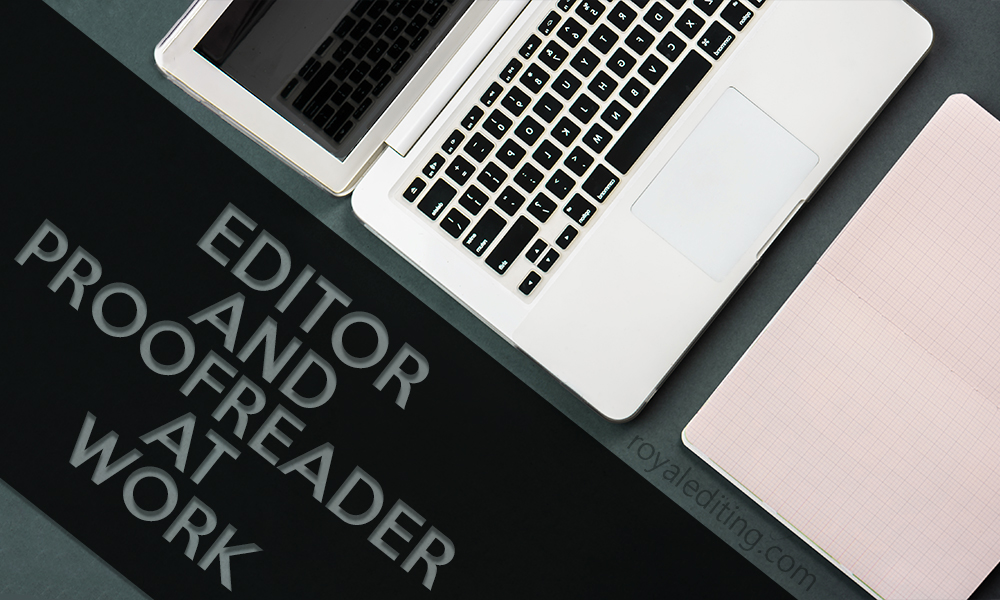 Royal Editing has a large staff of professionals who work 24 hours a day to assist students in their writing assignments. Some of the tasks do not require too much time and can be finished 12 hours after the payment, while others, such as dissertation editing, may take a whole week. If you are interested in what exactly an editor proofreader does at work, this article is going to shed light on the topic. Here we will enumerate the main tasks of a writing specialist and even share some hints that professional editors sometimes use themselves. This is a unique insight into the profession, so do not lose the opportunity to have a look behind the scenes.
Working from any part of the globe
What place do you imagine when thinking about proofreaders' working routine? Maybe a large office with glass cubicles? You may be partly right on this one, but being a proofreader does not necessarily mean working from an office. Often such specialists do not have any particular workplace. Some of them do their job from home, while others even prefer to change places of living regularly and still carry their job with them. Because in order to work with texts, one only needs a laptop and stable Internet connection.
So, the truth is that a professional editor or proofreader can work from any part of the globe. It is one of the most "mobile" professions that allows to be wherever you want. In the same way as customers get a lot of advantages by choosing online editing (read more about this here: http://royalediting.com/advantages-of-editing-papers-online), editors themselves benefit, too.
Dealing with deadlines
Being flexible in terms of locations does not mean that time limits do not matter either. On the contrary, a professional editor can never forget about deadlines. It is a question of being able to organize yourself while having no particular working schedule.
When customers place an order at Royal Editing, the editor who starts working on it is fully responsible for delivering the text on time. The client's college performance may depend on the editor, so there is no way the latter can relax and ignore the deadline. It leaves our customers with a unique opportunity to select the final term by themselves. Depending on the current needs, you can choose a deadline anywhere between 12 hours and 7 days, while we will do everything to finish the job during this period.
Here is a quick tip how to choose an appropriate deadline when ordering from Royal Editing:
If you want to save more money on editing, try placing an order beforehand. A more remote deadline will decrease the final cost of the order.
If the task is urgent, tighten your belt as to other expenses and opt for quick editing or proofreading that will take less than a day.
Strong competition
There is no such thing as becoming a great proofreader once and for all. The editing market always has a fierce competition, which means that numerous professionals offer their online paper editing services. It leaves customers with a whole lot of variants to choose from. In order to be in demand, a proofreading company, as well as an individual proofreader, should render services of the highest quality only.
Royal Editing pays special attention to the level of our employees' expertise. Each of them is a decent professional who can do their work with flying colors and strengthen the image of the company in the eyes of customers. So one cannot say that being a proofreader is a calm and unworried occupation. On the contrary, competition on the market makes this job rather stressful, but it is still rewarding.
If you are interested in our company's achievements on the market, the following links will be of help:
Staying focused
In order to perform brilliant job, by which we imply correcting all the mistakes, enhancing style where it is necessary and applying just the right formatting, a professional should stay focused all the time. Otherwise, mistakes may be left unnoticed, and the results of such editing will not leave a customer happy. Our proofreaders and editors have their own secrets of staying focused on work, and right now we are ready to reveal them.
A cup of coffee increases productivity for several hours. This is completely enough for a quick editing task; say, a short essay or paper.
Physical training prevents people from getting distracted, too. It is especially pleasant to be engaged in some kind of intellectual work after an hour of workout. There is not even a thought about leaving the chair.
Keeping the goal in mind proves to be a great motivator. Visualizing the delight of customers, a boost of career credentials and, let's face it, a decent salary are also among the things that help our specialists to stay focused. We know that our services can make your life better, and you have no idea how it motivates us. Read this article to learn what you in turn get from our quality services: http://royalediting.com/how-best-editing-services-can-make-your-life-better.
Feel free to borrow some of the tricks from here to keep concentrated on any tasks that you need to finish.
The importance of having a break
Maybe some people think that a 12-hour deadline means that an editor will work on one paper constantly, without a break, but it is a delusion. An average human being cannot do the same job for more than several hours without any breaks. The productivity starts rapidly decreasing, and the efficiency of such work is negligible.
Our editors and proofreaders always take a break between different assignments, and even within the scope of one order if it is huge. It is not a waste of time; on the contrary, such an approach saves time in the long run because after a mere short break the human brain starts working with increased efficiency.
Stick with this advice, too, if you are faced with the question of increasing personal productivity. It is up to you what to do during such breaks. Some people prefer to lay down and relax, while others have snacks or do physical exercises. Find something that really works in your case, and do not deprive yourself of precious time for rest, even if the circumstances are pressing.
Making decisions
It is easy to work when customers know exactly what they need. For such people our website has a special form where they can insert their personal recommendations, instructions and demands. But can a person provide for every contingency? Especially when it comes to such a creative process as essay writing or enhancing the existing text. We know for sure that the answer is not.
It often happens so that custom instructions that our clients send do not cover all the range of disputable aspects. What is more, some orders go without instructions at all, so editors have to follow general academic writing rules. When an editor is hard pressed for time, and there is no way he can manage to contact the customer to solve a tricky issue, he must make his own decisions.
The statistics show that most of our clients are happy with the decisions their personal proofreaders made. But it takes years of experience to arrive at the point where a professional can predict what his client is going to like. We are proud that our specialists can do it.
Final revision
Everybody knows that after writing an essay one should also check it for mistakes. But did you know that even after editing professionals check their work too? It is like final revision before sending the text back to the client, so basically each essay in our company gets checked twice.
Of course, it increases the time proofreaders and editors need to get the job done, but at the same time they practically reduce to zero the chances that something is still wrong with the paper. This result is worth spending time and efforts on.
Professional development
As we already mentioned, a person cannot just become a proofreader and forget about further development. That is why even the most qualified editors at our company, the work of which everyone can order by choosing the top-10 option while placing an order, regularly take care of their professional development. There are several ways in which an editor or proofreader can brush up their knowledge.
Taking special courses for editors and proofreaders ­– either online or at some physical establishment. Usually such an approach gives not only solid knowledge of secrets that English grammar has, but also an appreciated certificate that proves the level of expertise.
Learning new language tendencies is useful too. Every year English accepts new changes, such as neologisms, or newly coined words, and these changes reflect the modern state of affairs in society. It is important to keep track of them and use in writing where appropriate.
Learning a foreign language may turn out useful, too. For example, getting familiar with German from the same West Germanic branch where English belongs to can improve your knowledge of both languages.
Now that you know how professionals from Royal Editing work, you can order our editing and proofreading services at reasonable prices without hesitation. This article probably managed to prove that editing is not that easy at it may seem from the first; it is a process of constant professional development and applying different strategies that help to stay focused on work. If this post has not covered all the issues you are interested in, take a look at these articles that will provide even more insight into the profession: