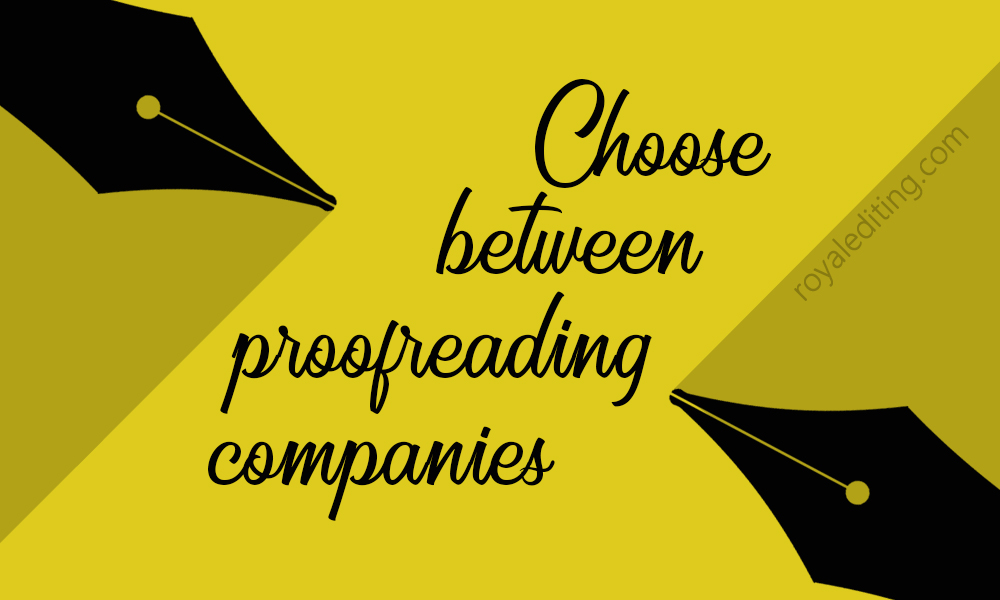 A lot of writing tasks make it hard for students to manage all the assignments on their own, and sooner or later the necessity arises to ask for professional help. No matter what exact service is needed, it is important to make the right choice, by which we mean opting for a reliable company. But how to find out whether a website is worth working with or not? In this post Royal Editing – professional online editing services – will share some vital indicators that most likely guarantee the reliability of a proofreading company. Before placing an order for editing or proofreading on a certain website, make sure it corresponds to a number of criteria.
Flexibility in various respects
A student whose desire is to get over with a paper as soon as possible will not want to waste time trying to adjust to some company's routine. For example, there are services that require registration and verification before actual work, while others will not let their clients choose deadlines or a specific editor. This all reflects how much a company values and respects its customers, and the more routines you are able to adjust for yourself, the more comfortable the experience will be.
Taking it into account, Royal Editing presents highly adjustable professional editing and proofreading services for academic needs. On this website people can work the way they are used to do it. It is up to our customers to decide upon these things:
whether or not to sign up on the website before placing an order;
what kind of service to select;
what deadline to set;
what variant of the language to choose: British English or American.
Moreover, if you want to work with a specific proofreader, feel free to require exactly this person. Thus, having had a wonderful proofreading experience once, you can continue working with the same professional over and over again. It also makes it easier to recommend outstanding essay and paper editors to friends and family.
Readiness to acknowledge mistakes
Although the main task of proofreading companies is to correct other people's mistakes, one cannot cross out human factor completely. Failure to make a paper perfect is a serious blunder for the reputation of a premium grammar proofreading service. However, if such a problem does take place, it is essential that the company deals with it as professionally as possible.
For example, our website guarantees proofreading, as a result of which the text answers to these criteria:
high anti-plagiarism results;
the complete absence of any types of mistakes: stylistic, grammar or spelling;
perfect formatting.
In addition to this, we always adhere to the deadlines our customers select. Even though they start from 12 hours only, professional proofreaders who work for Royal Editing around the clock make this quick proofreading real. It is also possible to opt for a more remote deadline, say 7 days from the order date. In this case one can save up some money, but only if there is enough time at the disposal to wait a whole week for an essay.
If it happens so that our copyediting service online is unable to fulfil these promises, a complete refund will go to the customer. There is nothing risky about choosing this website – it becomes perfectly clear after getting familiar with all the terms and conditions that we stick with.
So, with Royal Editing customers can no longer be afraid of mistakes: neither theirs nor ours. This certainty brings you one step closer to choosing the best company, but this is not the end yet. We will move on to other aspects, but before that check out some recommended articles on the subject. Follow the next links to discover more posts on choosing an appropriate online service:
Client feedback
The next point we would like to dwell on is customer feedback. It may not be as important as the previous two aspects, but positive reviews from actual clients, available for reading in the public domain, always speak well of a proofreading service.
Probably everyone knows this feeling when some service or product has exceeded all the expectations, so that it is almost impossible not to leave positive feedback to the person who rendered the service or sold the product. It works well with Internet shops, but the principle is the same with online editing. If the final essay was literally wonderful, a rare customer would not want to share their emotions with others. At least our clients often feel this urge, and they follow this desire.
On this website we publish the most inspiring of our customers' reviews to persuade newcomers that the services one gets here are worth their price (especially taking into account numerous discounts, among which there is a huge one for the first order). What is more, they can compete with many other online services on the Internet, even those that cost more. Royal Editing has always been an attractive quality/price solution, and we are working on maintaining this balance. To read more about editing and proofreading rates, including handy life hacks how to pay less for the same amount of services, visit this page: http://royalediting.com/editing-services-rates-how-to-pay-less-and-get-more.
Well-thought system of customer support
We do not know whether others find it vital, but we believe that for clients it is extremely important to be able to reach their proofreaders at any time. Solving urgent issues without any delay is like balm to the soul, especially in a modern stressful way of life.
Therefore, if you have any questions, feel free to use our message box even if it is 3 o'clock in the morning. Remember that we work with different time zones. It means that support managers from Royal Editing are available 24/7, and so are some of the proofreaders. Next time you need to perfect a paper immediately, do it with our company, even if the need arises in the dead of night. Find out more about how we render professional services here: http://royalediting.com/the-most-reliable-essay-editing-service.
To sum it up, we can point out 4 essential aspects that speak of a company's reliability. The first one determines how flexible the company is with its clients; one can refer to it as the level of personal approach. Then, pay attention to the system of refunds and money back guarantees. The third aspect is the presence of feedback from previous clients, while the last one is how thoughtfully the customer support system is carried out. Royal Editing can boast each of the aspects mentioned above, which makes our company a perfect choice for academic proofreading. We remind you that each new customer gets an appealing discount on this website, so it is no time like the present to start working with true and devoted professionals.
Here you can read some more articles about our company, just to bate curiosity about specifics and details before ordering: