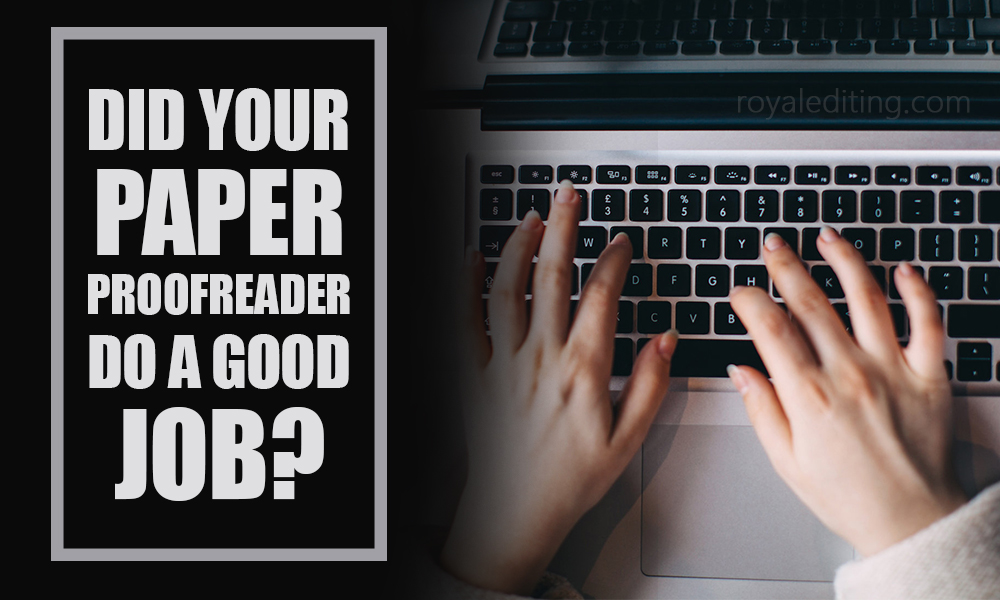 People often pay for professional editing or proofreading help without thinking much whether their specialist is enough qualified to do this job. No wonder sometimes clients who decide to work with a cheap company without checking its reputation first have problems afterwards. It may be everything starting with accusations of plagiarism and ending with numerous mistakes in the text that actually should have been corrected. In this post Royal Editing offers a comprehensive checklist how to find out whether your papers proofreader did a really good job. Scan through the concise previews, and then read the explanations beneath for a better understanding. In the end we will tell the secret how to choose a professional so that you can always be sure about the results.
Use either online or downloadable tools to check for plagiarism
It would be a disaster if a student wanted to receive quality rewriting, but the text that came back is not unique. Even if it was a proofreading task, plagiarism results still have to be within acceptable academic boundaries, otherwise it would mean that the customer paid money for nothing. Use any online tool – some of them are available for free – to check how unique the essay is. Alternatively, download a program on the PC to do the same. If the results are unsatisfactory, do not hesitate and claim a refund.
When choosing to cooperate with our company, you can be sure that all the papers that we deliver will pass plagiarism tests perfectly. This is because our staff always get instructions how important this aspect is for academic essays. We do it automatically, without any reminder on your part.
Read the text from the beginning to till end and estimate how logical and readable it is
The main task of writing any academic essay is to get a certain idea across to the audience, so simply reading the text is enough to see how successfully this goal has been achieved. It is perfect when in the process of reading nothing distracts readers' attention, all the thoughts seem logically organized, and the structure of the essay speaks of great writing skills its author possesses. And only you know that it was not necessarily the author who made the essay this perfect; there could be some proofreading or editing involved, but nobody has to know a thing about it.
Track down the amendments made across the document
Top-notch editing allows to track down all the modifications the editor decided to make. Why do companies do that? The answer is on the surface: to let their customers see that all the changes made within the essay were necessary for a better text.
Royal Editing, for example, has nothing to hide. Our experts do not edit words, phrases and punctuation marks just for the sake of changes. We do not pursue the quantity of amendments; it is quality that we are after. That is why well-written essays can be returned to the client with a minimal number of absolutely necessary changes, while papers created without solid writing skills usually get back to their authors completely transformed. We offer professional individual approach for each separate order, and everyone can become fully convinced of that by comparing the original with the edited document.
Use grammar and spelling checker
This is another one of the basic things that students can do. Simply copy paste the text the specialist has sent back to any online grammar and spelling checker. This method will detect cases of gross negligence because normally nobody would expect that some kind of software can do the job better than a paid professional (by following our advice everyone can get to know whether their proofreader is a qualified expert before placing an order; this article tells how to do it: http://royalediting.com/how-to-find-out-if-your-essay-proofreader-is-an-expert). If the edited text does not pass the checking test, feel free to ask for a refund, you are absolutely entitled to it. But first of all make sure that the mistakes the grammar checker found are actually mistakes. Here is a quick piece of advice how to do it:
Use a dictionary to double check, especially when it comes to spelling. It is ridiculous how checking programs sometimes cannot recognize basic words, let alone difficult terms and technical vocabulary.
If it finds errors in the use of punctuation, make sure that the corrections this checker suggests are logical and do not blast sentence structure.
Pay attention which variant of English the spelling checker uses. If you asked the proofreader to improve the essay in accordance with British English, then of course a program where the American variant is set up will find plenty of spelling discrepancies.
These precautions fulfilled, you can actually move on to asking the money back if there are some blunders left after the editing has been carried out. Royal Editing, for example, has its own refund policy that gives a solid guarantee that the rights of the customers will not be violated. It means there is no need to worry even if you place your first order at our company. By the by, if this is the case, the next articles shed more light on the principles of our work and may be helpful in making a decision:
Submit the paper to the professor and see the result
Although this may be risky in the event that the editing job was poorly done, this is truly the only way to know for sure how good the specialist was. Even not only that; maybe the proofreading itself was not so great, but if it works for your specific professor, then why look for another specialist or another company?
The statistics that Royal Editing gathers clearly shows that professors tend to love our job. 4 out of 5 customers have returned to us and placed further orders. It proves the only important thing: that the level of services that we offer completely suits the demands of most professors across the globe. Because it is not a secret that we work with students from different countries who have only one thing in common: English as the primary language of studies. If you are one of them, and still in search of a skillful editor who would satisfy your professor's requirements, welcome to the ranks of our clients!
By the way, did you know that each new customer gets a generous discount from our company? Part of the order cost gets covered at our expense if you decide to start working with Royal Editing. Add this to the list of advantages of working with our reliable paper editing services online and by the end of this article you will clearly see how numerous they actually are.
So how to choose a reliable paper proofreader?
For those who were attentive enough while reading this post, the answer to this question will not come as a surprise. At Royal Editing students will find everything they can wish for:
professional proofreaders with higher degrees who are willing to work on your paper at really cheap fairly calculated prices (visit this page to find out how they are calculated: http://royalediting.com/how-we-calculate-proofreading-services-rates);
a team of experts that includes not only qualified editors, but also helpful and polite support managers;
a well-established work routine that covers everything from the moment a customer pays for an order to the moment when the document gets back in the edited version, and the recent order status is always indicated on your personal page;
a well-thought system of refunds, discounts, bonuses and more;
informative newsletter that keeps our clients up to date with new articles on the blog and personal goodies;
an intuitive website that presents only vital information and does not even require registration to place orders ­– Royal Editing makes a point of saving clients' time.
We would like to enumerate all the benefits, but unfortunately it will take too long, while this article focuses on another subject. If you are specifically interested in details how our first-rate editing and proofreading service works, these previous posts may be of help: