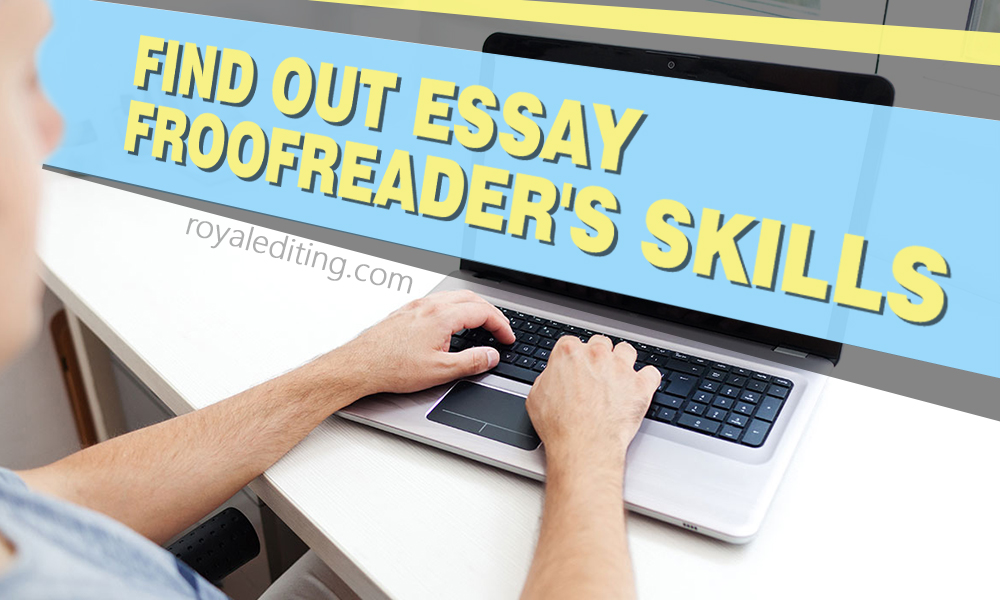 When it comes to editing or proofreading, it is a matter of choosing a skillful specialist in the field. Once this is done, editing will get settled smoothly and without any efforts on your part. So, how to find a true expert? How to ascertain whether a specialist of your choice is a master or not? Our essay editing website is here to help. We will clarify step by step which features indicate the reliability of an essay proofreader. If you have any questions after reading this post, let us know. We are always glad to explain our standpoint to the customers.
This detailed questionnaire will tell you how reliable your proofreader is. Compare the answers you can give to the explanations we provide. If the descriptions of an ideal specialist coincide with the professional features of your proofreader, then congratulations, you have found a real expert!
Is it an individual proofreader or a member of a company?
Company members are more likely to turn out brilliant proofreaders than individual specialists. Why is it so? Because in order to get into a company, one has to provide a catching CV, have at least some experience (if we are talking about trusted companies, not some mickey-mouse outfits) and in most cases to pass a test before becoming part of the team.
The algorithm described above is exactly the way proofreaders become part of our Royal Editing family. All this should give you an impression how much a person has to achieve before starting to work as a professional proofreader on this website. The competent staff is a key factor that allows us to come up to clients' expectations.
To get a better understanding in what ways professional proofreading services differ from amateurish, read the next article: http://royalediting.com/professional-proof-reading-service-vs-amateurish. Mind you, we do not claim that every individual proofreader is necessarily a botcher. It is just that working with companies, you have much better chances of finding a real expert. Then why taking any risks?
What academic degree does the proofreader have?
An academic degree per se means nothing. You can never be sure that a person with a PhD wrote the thesis by himself, or that he did not resort to bribes during college years (by the way, we have a post on preparing yourself for thesis writing; follow this link thesis writing is about to show up on the horizon of your studies: http://royalediting.com/how-to-prepare-yourself-for-thesis-writing). That is why a degree is only one of the indicators, but without it any further considerations do not make any sense.
The administration of Royal Editing believes that an educational document is a mandatory factor to review job applications. Undergraduates are not allowed to enter the company, although we are only glad to wait a couple of years until they get their degrees to consider them for the job once again. We believe that graduates after studies obtain much more than a piece of paper that proves the person attended a college:
they get priceless knowledge in various branches of studies that help them to look at a problem from the viewpoints of different scientific fields;
they learn how to become patient and dedicated;
graduates, all in all, are for the most part experts at academic writing because they had to create a bazillion of pages which merged together and formed essays, papers, reviews, analyses and so on.
These are everything we need, especially the last point. That is why undergraduates will not bother you if you choose to work with Royal Editing. What other benefits will clients get here? Read these posts to in order to find out:
Is he a native speaker?
Being a native speaker is another crucial point that determines how fluent and skillful a person is at English grammar. The thing is that English has a great deal of rules and probably even more exceptions, which makes it difficult for foreigners to grasp the language grammar (although there are a lot of efficient online tools for improving grammar). On the other hand, people who grew up surrounded by this language will know even the slightest nuances of it.
Once again, not all native speakers are inborn grammar experts. That is why being one of them is only one of the several factors that you should consider. But the message should be pretty clear: native speakers are more adept editors than those who studied English intentionally as a foreign language. Needless to say that Royal Editing makes a point of hiring native speakers to save our clients the trouble of asking for a refund for a poorly edited essay. Customers can choose a professional either from the US or Great Britain.
How long has this person been involved in editing?
Usually one year of editing activity is enough to bring a professional to a high level of expertise that will be enough to fulfill almost any academic needs. Further years of course matter too. The longer the person does proofreading for a living, the more decent works he will deliver, and the quicker he will do it.
There is a very convenient option on our website if you want to order the services of a proofreader who has been in this business for many years. This is called the top 10 writers option. At first glance it has nothing to do with the duration of work, but statistics we collect show that only specialists with several years of experience can manage to win a place on this list. So, if it is absolutely necessary to get proofreading of the highest quality, everyone can opt for this variant at Royal Editing and pay only 10% more.
Did you find the proofreader accidentally, or did some friends of yours recommend this person?
Customer testimonials are important too when choosing a proofreader to work with. Naturally, if the feedback you see about his previous projects is positive, then it is likely that this person will do a good job for you too. The same rule applies if a friend of yours recommends you a professional. Make sure though to get familiar with the results of proofreading just to see for yourself that he is a great specialist. Different people may have different criteria as to the quality of academic papers.
However, it is a whole different story when you know nothing about your proofreader, found him accidentally and no testimonials are available in public. Be careful. Ordering such services is like buying a pig in a poke unless, of course, there are samples that everybody can read. We will talk about them in the next paragraph.
As for Royal Editing policy, we have a special feature for those who want to recommend a proofreader from our best proofreading website for students to their friends. Simply send them your writer's ID, and they will be able to choose specifically this person to work on their orders. Was it you who received such a recommendation? Then the only thing you need to do is to insert the number in the order form.
Can you become familiar with the samples of work?
Having said all this, we can honestly admit that there is no better way to learn if this particular proofreader is going to satisfy your demands rather than to get familiar with his previous editing works. As we already mentioned, each client has individual requirements, and only a sample can show whether the proofreader meets them or not.
Royal Editing does provide the feature of preliminary reading. By visiting this page with free samples on our blog, you can examine essays that came from the pens of our editors. Pay attention to these details:
Are there any grammar mistakes in the samples?
Do you like the style of writing? Does it look formal and academic to you?
Is it clear what is the main idea of the essay?
Would you personally want to submit a similar text to the professor?
Having answered these questions, you can decide whether Royal Editing is a good choice personally for you.
Our guide on finding a perfect proofreader has come to an end. We do not claim that the list you have read here is comprehensive, but it indeed gives a profound impression of somebody's expertise. A native speaker with a master's or doctor's degree is very unlikely to be bad at the English language. If this person has spent several years of his life engaged in editing, the odds of it are all but non-existent. Combine this information with other tips from our company, and you will definitely stumble on a valuable ally in college studies.
Do you have any other life hacks how to ascertain a proofreader's reliability? Feel free to share them with us. To read more useful articles on proofreading related topics, follow one of the next links: