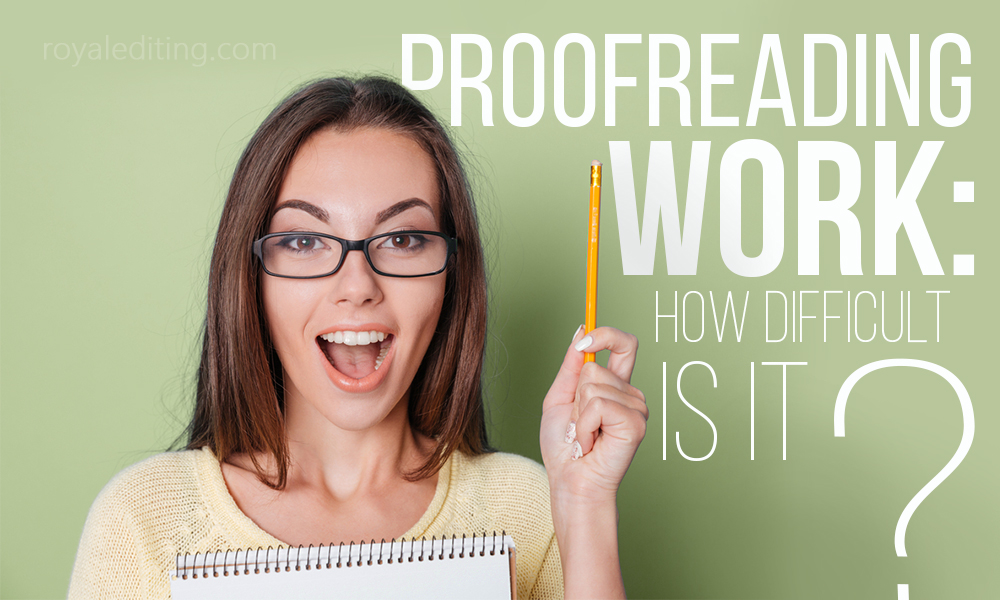 Some students tend to think that adding a final editing touch to a paper is no big deal, and they can perform it by themselves. Others even believe that essays without proofreading are normal and acceptable, so there is no need to spend additional time and money on it. Our academic editing services are here to break this myth and to explain to everyone why proofreading is an essential part of any academic writing assignment and what we include it this service. You will get to know all the details of Royal Editing's offer and by the end of the article will be able to decide how necessary the proofreading is in your case.
Proofreading work: the main objectives
After reading this section, everyone who believes that proofreading is irrelevant for college texts will change their mind. There are plenty of objectives this service has (and successfully meets if Royal Editing is involved). Here is a list to name just a few of them:
Proofreading makes sure that typos and other careless mistakes get out of the document for good. This is the most basic improvement, which, however, presents the paper in the most favorable light.
This service is aimed at correcting grammar mistakes too. These come from lack of knowledge, not from lack of attention as it was in the previous case. The cause is more serious, yet proofreading successfully deals with it too.
It will ameliorate the formatting, making it suitable for the quotation style you need. To learn more about academic quotation rules, we recommend getting familiar with sample citation styles.
Necessary stages of professional proofreading
First of all, in order to proceed smoothly, our managers will appoint a proofreader who is knowledgeable in the sphere of your academic interest. Otherwise the result is under question, so be sure Royal Editing will not risk the image of reliable academic editing services.
Once the order is assigned to a particular writer, this person becomes acquainted with the work and examines it word by word and sentence by sentence in order not to miss the slightest mistake. He makes all necessary changes that later on the client will be able to track down in the document. Everyone can see for themselves that we make only requisite corrections that actually improve the text.
Then the paper is checked for the last time (which we call final revision). It ascertains that our service is proof against human mistakes. More specialists become involved if our client is not satisfied, but this is a whole different story that, in addition to that, happens very rarely at our best proofreading company.
As you see, an impressively large group of professionals work to make proofreading dreams come true. This service would not exist without IT specialists who see to it that this website functions properly. Then, our skillful managers resolve disputable issues and distribute the orders among the professionals. And of course they ascertain that each client is left satisfied with the professional editing services online. Finally, a huge team of writers, editors and proofreaders is available 24/7 to undertake the most urgent orders. We work different shifts to cover all the range of students' needs and to be there for you when the rest of the country is asleep.
Now you know that professional editing takes several stages to function well and even more people to be in charge of these stages. We shared even more details about our website in the following posts:
The main difficulties proofreading entails
Since Royal Editing has a numerous staff, and all the work flow gets distributed among the best professionals, we almost never encounter organizational problems or quality issues. But we do know that individual proofreaders have a bunch of them, and here you will learn what difficulties exactly proofreading may cause for novices and how to deal with them. Thus you will be prepared in case you decide to check an essay by yourself.
Some students say that fixing the formatting and the references is the hardest task because no matter how hard they try, the professor finds imperfections anyway. The only solution is to learn by heart all the requirements of the citation style you need. Try also looking for an appropriate template on the web – it can save some time too.
Inexperienced writers claim that proofreading takes up a lot of their time, and they proceed slowly and inefficiently. This is a common problem, and in most cases it comes from poor grammar knowledge. If a person knows English on a decent level, it will not take much time or efforts to correct a paper in accordance with grammar rules. Want to move a step closer to being a grammar guru? This article will be of help: http://royalediting.com/10-signs-of-true-grammar-nazi.
The second or even the third lap of proofreading still reveals mistakes, although it seemed that all of them were corrected at the first push. This is once again a matter of knowing the language, or in some cases of being alert and concentrated. Maybe the time is not appropriate for this mental work: for example, if you are struggling to get it over with in the dead of night, the chances of success are poor. Time management is the only thing to save the day. Even working students can organize their time efficiently if they have such a goal.
There are no mistakes in the document, but the text sounds awkward and unprofessional. Professionals deal with this problem easily: by making sure that proper terms are used across the document, that the same words do not get constantly repeated (if necessary, synonyms replace them), and that sentence structures vary across the essay. If at least one of these aspects fails, the paper will never appear worthy. To learn more about making papers consistent, read our article that explains how to master coherence in academic texts.
How to facilitate the process of proofreading
There are only two ways to do this, each of them being based on the principle of delegating work. The first one is to use machine checking that offers mediocre results but saves so much time and energy that it becomes worth mentioning in this article. You can find more detailed information on how software checkers differ from the work of a specialist by following this link: http://royalediting.com/proofread-checker-should-you-choose-a-program-or-a-person?
The second option is of course entrusting proofreading to an online company. Having chosen the right proofreading website, you will be able to graduate from college with the highest grades. We already discussed how proofreading improves grades and college performance. It is high time you assured yourself that nothing can surpass the work of a professional proofreader in various aspects:
the speed of working,
the number of corrected mistakes,
the quality of improvements,
the ability to adjust to your personal demands.
Now that you know all the inside details of really quality proofreading, you can objectively decide how necessary this service is for you personally. If the answer is positive, feel free to write a message to our managers and clarify the conditions. Or go to the order form and fill it in right now, which will make new customers eligible to a 15% discount. Interested? Do not waste precious time, get the paper edited in a matter of hours. These previous articles will help even the most hesitant people to make the final decision: